Storyteq

helps you to evolve your large-scale creative testing. You can:

 

 
Optimise content
at a click
Know your audiences by testing at scale
Gain visibility on campaigns
The challenges of trying to A/B test creative assets at scale are
impacting
your teams
Marketing teams need to measure the performance of brand campaigns, but they cannot always track the usage of their content easily in one place, especially across different regions and markets. With little evidence supporting where to best place budget and resource, there can be sometimes a waste of both.   
For creative teams, it's equally frustrating. They are overworked trying to manually create the volume of content necessary for worthwhile testing. However, that hard work can be scrapped quickly if the content fails to perform. With better predictions, decisions could be more wisely made on what content to produce.
Creative teams are both exhausted and uninspired, seeking more fulfilling work elsewhere
One-size-fits-all creative output is failing to engage audiences
Gaining any insight is slow when testing ad variations manually
Human resource and budget are wasted on campaigns that are not backed by evidence
Ad hoc solutions such as adding headcount mean the problem repeats itself
Companies are not hitting their bottom line 
Discover more about your audiences by tracking the performance of a high volume of ads
Optimise content at a click
If the lack of scalable content is stopping you from testing a large volume of creative assets…
…use the power of Creative Automation and dynamic templates to generate multiple variations of premium video, HTML5 banners, statics and print. Build these templates to leverage contextual retargeting with Dynamic Creative Optimization.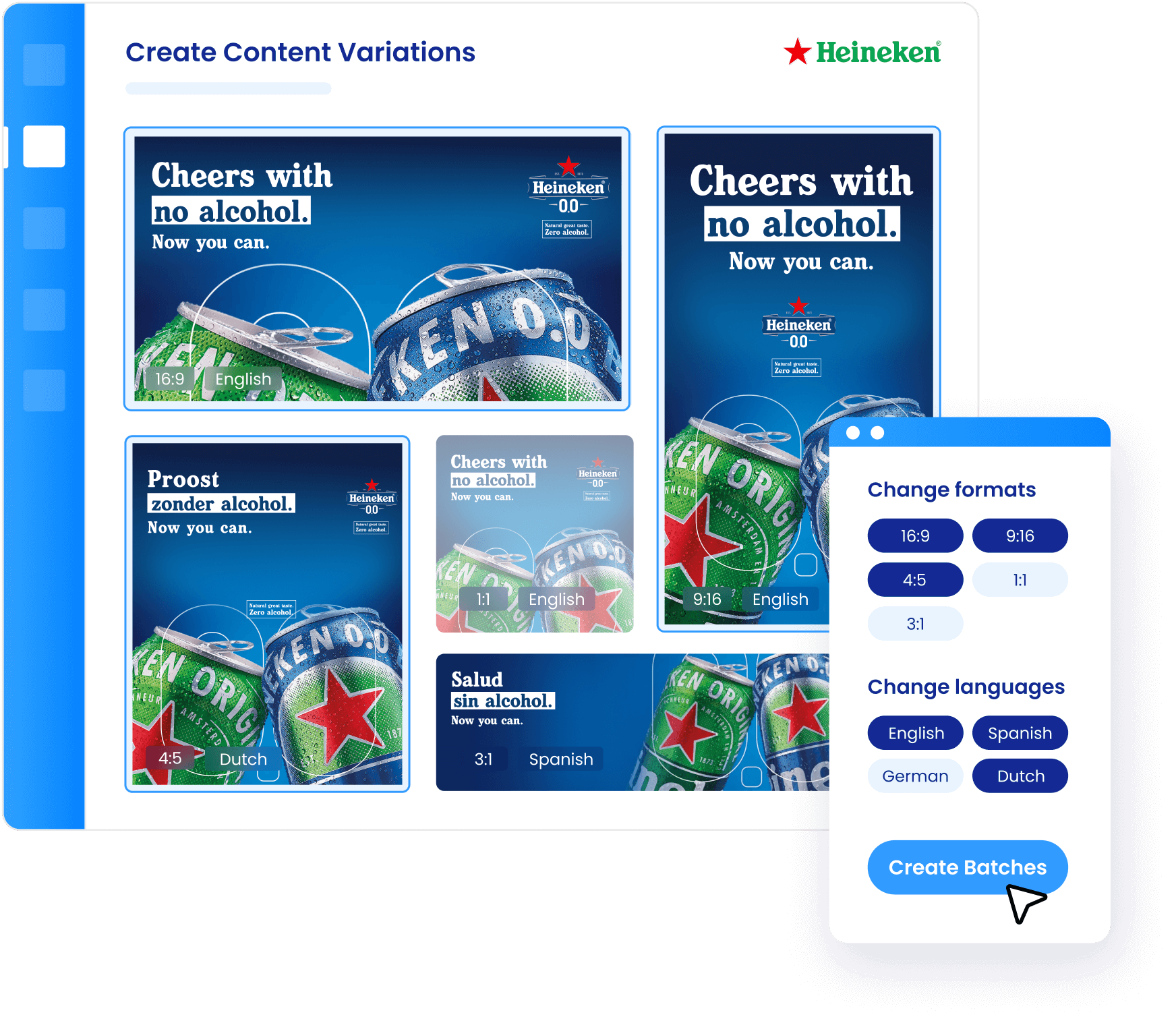 Know your audiences by testing at scale
If testing assets one by one is too time-consuming but it means you are failing to reach some audiences… 
…produce batches of infinite creative assets and upload these directly to an unmatched number of integrations to deliver and test across multiple audiences. 
Get visibility on campaigns

 



If you lack one source of reporting which provides a detailed audit trails and usage analysis of content…
...use an ActiveDAM to gain an overview of creative asset usage by all your different brand entities, providing visibility over what's working and what's not.

If you don't have enough manpower or creative people on staff to power the Creative Automation engine which will produce the volume needed for A/B or multivariate testing…
…take advantage of Storyteq Platform Services who can fully operate your platform for you, or simply work elbow to elbow with your existing creative team.  
W

e have created creative testing efficiencies for these teams:

 

  
Voodoo is one of the world's largest hyper-casual games publishers releases multiple games a year.  
They chose Storyteq's template-powered automation platform to produce more ads, faster, and without having to hire more people.     
Having easy access to a dashboard indexing the entire ad library helps the team ensure that no combination of elements or specific variation has been forgotten when testing best-perfoming ad creatives.
150
available games worldwide
300 million
active monthly users
3.7 billion
app downloads worldwide
Book a demo

to see how you can test at scale and perform better

.
Frequently Asked
Questions
What is A/B or multivariate testing?
A/B testing is an effective way to determine which variant of a test resonates most with an audience based on a chosen set of metrics. This way, marketers are not executing on campaigns without understanding the impact of their choices.  
With Creative Automation, you can produce the high volume of creative assets needed for your testing purposes.
What are cookies and why is their demise a problem for marketers?
For over 20 years, cookies have offered businesses and advertisers a window into the world of consumers and their habits. Cookies, those miniscule pieces of data which track web visitors, are not in use in Firefox anymore and are set to become non-existent on Google Chrome in 2024. 
 
Users are demanding more transparency and choice around how their data is mined and exploited. This will be a loss to marketers because the ability to map a potential customer's buying journey on the web provides rich insight for further advertising efforts.  
 
The key to cookieless advertising is leveraging content and ensuring a high volume is available to take advantage of. Technologies such as Creative Automation give advertisers security in a post-cookie world because by creating hundreds or thousands of ad variations from one template, the possibilities for ad testing are endless. This facilitates a move from anonymous targeting to more specific targeting, specified based on the results of these tests.  
 
Read more on the subject here. 
What is Creative Automation?
Creative Automation is the process of leveraging technology to scale your creative asset production by automatically adapting and changing certain aspects of your videos, banners or images, for digital and print. This could include the size, format, Calls to Action, text or any other graphic elements such as products or logos. 
The aim of this software is to reduce the time and effort required for creative tasks all while improving campaign quality, brand consistency, output and compliance with industry standards.
What are dynamic templates?
Dynamic templates consist of a base creative asset (video, banner or image) with elements which are set to be dynamic or swappable. These can be changed from a data trigger.    
Text, images, sound or entire video scenes can be swapped out to instantly create customised content at scale, without sacrificing quality.
What is Dynamic Creative Optimization (DCO)?
Dynamic Creative Optimization (DCO) refers to a type of advertising technology that allows for automated optimisation of ad creatives in response to user behaviours and data insights.  
DCO is designed to improve the performance of online advertising by creating personalised and relevant ad experiences for each individual user.

Read more on the subject from Storyteq CEO Lennard Kooy, here.  
What is 'active' Digital Asset Management (DAM)?
An active DAM is distinct from a standard DAM because it is not only a location to store and manage your assets, but it allows you to customise or convert your file or digital asset into any format or size you need through dynamic asset transformation.  
If we're outsourcing most of our creative work, can we still benefit from Storyteq's Creative Automation?
Yes. The Storyteq platform allows top brands dealing with multiple agencies, brands and departments globally to efficiently manage their creative production process. We also have dedicated teams of experts in our Platform Services, who can work elbow to elbow with your team and partners to get things done.
Want to gain creative production efficiencies to meet the content demands of today?
Use the power of dynamic templates to produce creative content at scale and Brand Portals to empower your marketers with ready-to-use on-brand content.